The highest level of aircraft pilot certification is called Airline Transportation Pilot License (ATPL) Integrated Frozen. The Integrated "training path" that a student will follow is structured in a single, complete course with different stages of training, designed to train student pilots with no experience up to the professional pilot license.
The ATP Integrated course, offered by Global Aviation, approved by the European Aviation Safety Agency (EASA) standards, is designed according to the exact needs of leading airliners around the world in order to prepare a well-motivated individual for the role of a First Officer upon graduation.
Duration:

18 Months

Fee:

€ 62,000
ATP Integrated
The ATP Integrated is an ab-initio course addressed to all future pilots who wish to obtain a CPL (Commercial Pilot License) with the ME (Multi-engine) and IR (Instrument) ratings, and with the theoretical knowledge required towards an ATP License (ATPL theory credit).
During the program, the student will also complete the MCC (Multi-Crew Cooperation) training required to act as an FO (First Officer) in multi-pilot transport category A320 aircraft, essential in order to be employed by an airline. More specifically, this course is designed to train pilots to the level of proficiency in multi-crew co-operation, in order to operate safely multi-pilot multi-engine airplanes under IFR.
At least 17 years of age
EASA Medical (class 1) Certificate
Successful completion of the Pre-Entry Assessment
Theoretical Training: The ATP theoretical knowledge course (ground school) comprises 13 subjects and includes approximately 800 hrs of classroom training; inter-active video training, slide presentation, progress tests and sample exams. The theoretical training comprises a full time residential Ground School that takes place in our offices in Athens. After the end of the theoretical training, the student may participate in official examinations. During the theoretical training, the student will be taught the following subjects:
(010) Air Law,
(021) Aircraft General Knowledge,
(022) Instruments & Electronics,
(031) Flight Performance and Planning - Mass and Balance,
(032) Performance,
(033) Flight Planning & Monitoring,
(040) Human Performance & Limitations,
(050) Meteorology,
(061) General Navigation,
(062) Radio Navigation,
(070) Operational Procedures,
(081) Principles of Flight,
(090) Communications
Duration: 6 months of ground school
The course commences three times per year, every October, February and June.
Flight Training: The flight training course comprises six training phases (flying lessons), including at least 231 hrs without the examination flights.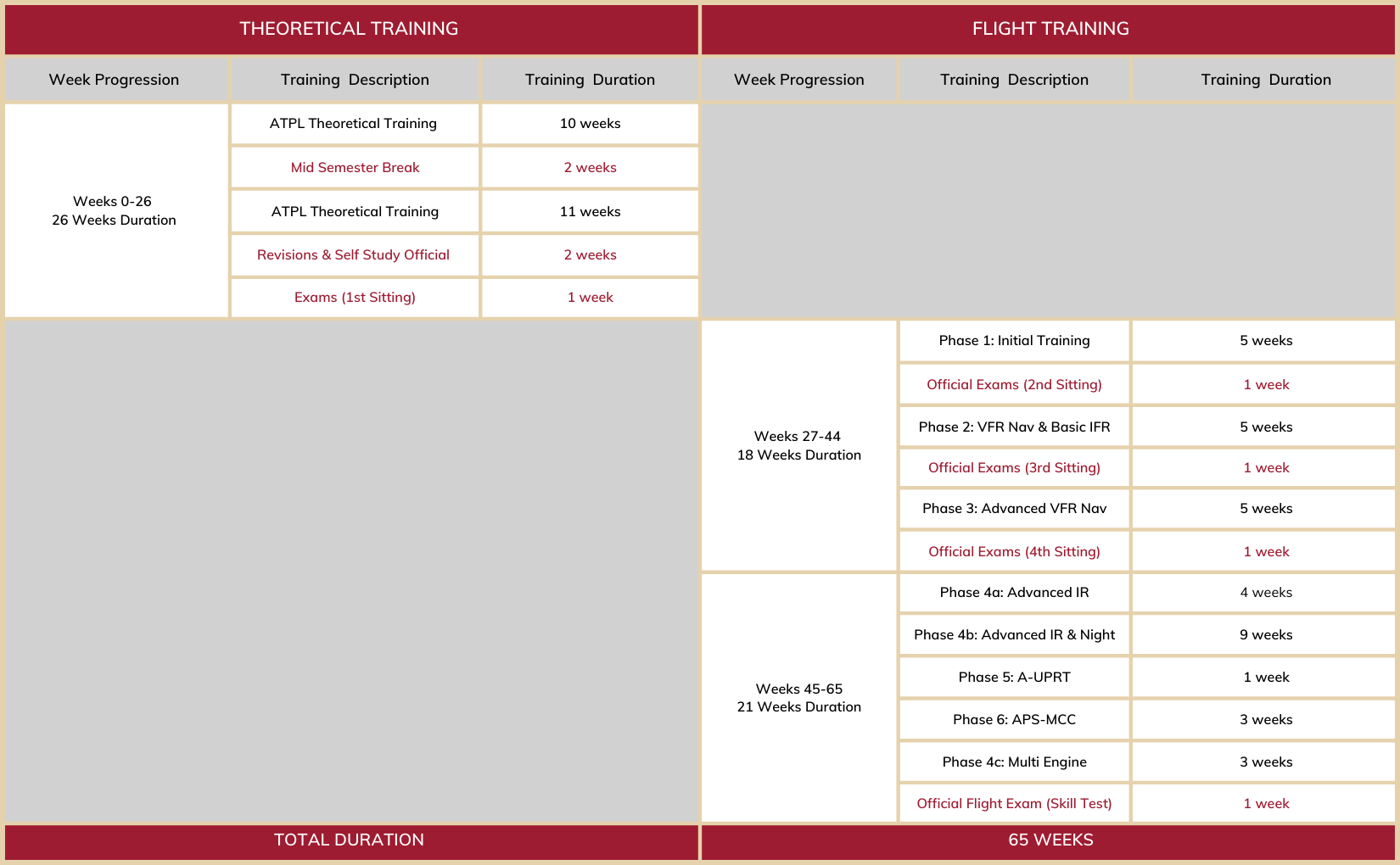 Let Our Graduates Speak For Us

Tsakalos Thodoris, First Officer at Ryanair (Boeing 737 NG) ATP Integrated
Global Aviation provided me with all qualities required for securing a position in the competitive aviation world. The training was focused on the demanding airline oriented business, guiding students from the first steps all the way to an interview with an airline. In that aspect, the high standard facilities and equipment, the well maintained airplanes and the highly experienced instructors, played a vital role.

Vasilis Markos, First Officer at Air Mediterranean (Boeing 737) ATP Integrated
I would like to say that choosing Global Aviation S.A. was the best choice I could make because of the quality of education they offer and their knowledge on the subject of aviation. But the most important aspect, I would have to say was their personal approach to meet each student's needs, and of course their support in professional rehabilitation. I will always be a part of Global!

Athanasopoulos Foivos, First officer at Olympic Air (Bombardier DHC 8-Q400) ATP Integrated
It felt nice joining an airline that a lot of Global Aviation graduates and former Flight Instructors where already flying. It helped me a lot to adjust in my new duties and made my transition to the airline a lot easier.

Giannopoulos Panagiotis, First Officer at Aegean Airlines (Airbus A320) ATP Integrated
Global Aviation Academy gave me the wings to my dream and made my dream into reality. The whole training was a wonderful experience. As for the flight instructors, I want to say that they are not only highly-skilled and knowledgeable, but also willing to teach and train each student with patience and respect. Global Aviation Academy instils in you the highest standards that are needed to succeed, as a professional pilot.

Tziavas Konstantinos, First Officer at Bluebird Airways (Boeing 737) ATP Integrated
I am very satisfied to have chosen Global Aviation for my training, because they have high standards both in flight and on ground training, and I was given the correct prospective, in regards to the demands of the aviation market, without false promises. Finally, they gave me from the very beginning accurate estimation of the duration and cost of my training. The above do justify Global Aviation's reputation as a credible, honest and professional school, which I would recommend.

Giannopoulos Vangelis, First Officer at Ryanair (Boeing 737) ATP Integrated
It took me a year to find a job. My flight school helped me a lot. Safety, quality, honesty; this is what Global Aviation represents. Global Aviation will remain in my heart, because it is not only an excellent flight school, but also an aviation family for its students. I would like to say to all of you, who will start your training with Global Aviation: Enjoy this unique journey!

Zangilis Theodoros, First Officer at Olympic Air (Bombardier Dash 8-Q400) ATP Integrated
The training at Global Aviation was conducted in a professional, yet friendly manner and was tailored to my needs. At Global Aviation, I found not only a group of skilled instructors, but also some good friends, always willing to discuss my worries and provide valuable aid.

Xenakis Giannis, Captain at Olympic Air (Bombardier Dash 8-Q400) ATP Integrated
My cooperation with Global both as a student and as an employee was impeccable. I feel fortunate for the high quality training I received and honoured to have been selected as a flight instructor. Judging from my career development, I believe Global Aviation was the right choice, not only for the quality of training I received, but for the career opportunities it provided me with.
Faq
I have no prior flight experience; can I follow the Professional Pilot Program?
Yes, you can. The ATP Integrated program is designed for ab-initio students who wish to pursue the career of a professional pilot.
I am not 18 years old and want to apply for a Type D visa. Can I do that?
European students can start the course, even if they are 17 years old. For non-European students who will need a Type D visa, they must wait to be 18 years old in order to start their visa issuing process and finally apply to our pilot academy.
Is my license internationally recognized?
Yes, any EASA license is internationally recognized. You will need to convert you license, only if you decide to fly outside E.U.
Will I be allowed any breaks in my ATP course?
Yes. The student will have 2 breaks during his training, for two weeks on December and another two on April.
I will need a certain amount of hours until I fly as a First Officer. How can I achieve that?
There are two kind of airlines, the first kind hires new and inexperienced pilots while the second kind hires only experienced pilots. When your will start your career you can only apply to the first kind of airlines. All pilots around the world start their career with maximum 200 to 250 hours flight experience, so they have to apply first to airlines who hire inexperienced pilots.